Welcome at WWOOF Österreich!
Do you want to help and learn about organic farming while you are enjoying the warmth of an alternative, private life style, experiencing the Austrian landscape, meeting interesting people AND get free board and lodge for it? Then you are at the right place at WWOOF Austria!
WWOOF - the network for voluntary helpers on organic farms.
WWOOF Austria offers you the possibility to get in touch with over 300 farms.
Marlies in the mountains - WWOOFing in east tyrol
a film by WDR Reisen
WWOOF T-Shirts
For the first time WWOOF Austria have great printed
T-shirts. We have two different models in many different sizes, printed on the front with the beautiful international logo and lettering.
It is certified organic quality and eco-print. The colour Vintage White is a pleasant chalky white (so not bright white, more like cream).
How wonderful when hosts and WWOOFers can easily find each other through the
T-shirts, for example at the train station!
But of course they are also suitable for going out at any time. We are always happy when WWOOF becomes a little better known.
Also makes a great gift idea!
Sizes and models
UNISEX and MEN
+ 100% organic cotton (kbA), + fairly traded, + higher grammage for long-lasting wear (180g/m2),
+ straight cut
Available sizes: S, M, L, XL, XXL
Price incl. postage within Austria: € 12,50 / pc.
Price incl. postage within Europe: € 15,50 / pc.
WOMEN
+ 100% organic cotton (kbA), + fair traded,
+ standard grammage (155g/m2), + fitted cut
Available sizes: S, M, L, XL
Price incl. postage within Austria: € 12,50 / pc.
Price incl. postage within Europe: € 15,50 / pc.
ORDER
Please send an email to office@wwoof.at. You will receive the T-shirts by post and can then pay with banktransfer.
Please write exactly in the email: number of pieces, size(s), name and address to which the T-shirts should be sent, telephone number for possible queries.
As long as stocks last!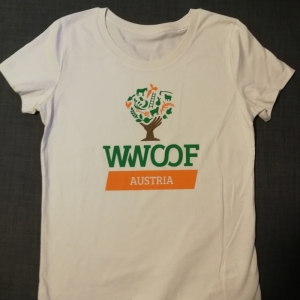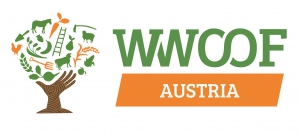 WWOOF turns 50 ...
The WWOOF movement is going to be 50 years old in 2021 and we have big plans to celebrate!
Since 1971 national WWOOF organisations have been on a mission to educate future organic farmers through hands-on and inspiring cultural exchanges, while supporting local farmers who are feeding their communities and training the next generation.
SUPPORT WWOOF
From the beginning, national WWOOF organisations have sprung up and grown individually in more and more countries.
Since 2012, national WWOOF organisations worldwide have been actively cooperating in order to strengthen the community and to protect the core values of this movement.
Now, our goal is to develop a new international WWOOF platform to continue promoting practical education on organic farms and to enable all members to become part of a truly global community.
... big plans for the anniversary
With a unique profile across countries, members of the WWOOF network will be able to interact more easily.
MAKE A GIFT
WWOOF is not a service, nor a profit-oriented business. WWOOF is a network of organisations, farmers and visitors that are striving to make this world a better place.
By building an interactive community we intend to make it easier for people to connect with the land and to learn about agro-ecological farming worldwide.
If WWOOF has meant something to you in your life, please help us to take WWOOF into a new era.
Donate today by bank transfer to the following account:
Federation of WWOOF Organisations
BE74967039269707
BIC: TRWIBEB1XXX
Password: Donation growwithWWOOF
Thanks!
WWOOF Austria
in cooperation with FOWO (Federation of WWOOF Organisations http://www.wwoof.net )
A new platform to #GrowWWOOF
Guideline Comic
Our new version of the WWOOF guidelines.